50th Anniversary Gala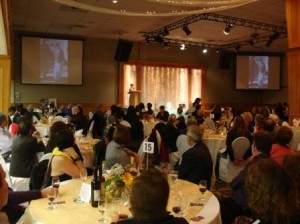 Thank you to all who attended our 50th Anniversary Gala Event on November 3, 2012. The evening was a resounding success. The room was packed, the Indian food was superb, the entertainers were delightful, and the speeches were excellent.
Jennifer Hales, TRAS President, gave a fascinating overview of the history of TRAS, from the Woodcocks' first encounter with the Tibetans in 1961 to the work our current partners are doing today.  The photos displayed on the two huge screens seemed to bring the people we work with right into the room with us. Our display board was covered with lovely letters and cards of congratulations from our partners.
To round the evening off, our guest speaker, Tsering Shakya, Canada Research Chair in Religion and Contemporary Society in Asia, Institute of Asian Research, University of British Columbia, charmed us with his personal story. He was, he said, "probably one of those snotty-nosed little kids" the Woodcocks first saw, and thanks to TRAS's support of the Tibetan Homes Foundation where he was a student, he was able to complete his education and eventually become a UBC professor. He thanked TRAS for having faith in unknown children a world away and for giving them opportunities they would never otherwise have had. 
Gala Entertainment
Tibetan Youth Musical Ensemble
TRAS was thrilled to have members of the local Tibetan Youth Musical Ensemble perform their beautiful songs at the Gala. The musicians kicked off the event, setting the perfect ambience for the rest of the evening.   
Jawani Bhangra                              
TRAS was delighted to have the Jawani Bhangra Team perform at our 50th Anniversary Gala Dinner. The dancers brought the room alive with their high energy dance performance, bright smiles and colourful dress. 
Angelica Shakya, Nepali Dancer
13-year-old Angelica Shakya performed beautifully for the guests at the Gala on November 3.
 "My passion is to dance. My ambition is to help people in poverty. It is my pleasure and thank you for letting me dance at the Trans-Himalayan Aid Society Gala."
Thank you, Angelica, for sharing your passion and talent with us! 
Silent Auction
Thanks to a generous donation by Kalsang Dawa, well-known Vancouver Thangka artist, the beautiful Medicine Buddha print was auctioned to the lucky recipient, Tony Phillips, former Vice-President of TRAS. To see more of Kalsang's work, visit: http://www.kalsangdawa.com/
Door Prize Donations
 Our thanks to:
            MPS Suites who donated a lovely gift basket
            Marion Tipple for a stunning photograph from the Himalayan region