Sponsorship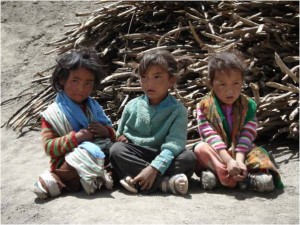 Through the TRAS sponsorship program, you can support the education of a child in the Himalayan region, one of the poorest in the world.  TRAS members currently sponsor 118 children in Nepal and northern India.  Children needing sponsorship may be orphans; or their parents may simply be too poor to send them to school, or even to support them.
TRAS started its sponsorship program more than 40 years ago. When George and Inge Woodcock (TRAS's founders) met the Dalai Lama in exile in 1962, his main concern was the children, many orphaned or semi-orphaned, who arrived in India with the flood of refugees from Tibet. "These are our future," he said, "without them there will be no future; they need a secure place to live, food and education." He asked his elder sister to set up an orphanage and school to care for them; thus the Tibetan Children's Village schools were started. His request to George and Inge Woodcock (TRAS's founders) was to help the children.
TRAS started the sponsorship program as a means of raising funds to care for them. Our first sponsored children are now middle aged, many having become successful professionals who in turn are now helping those who follow.  Sadly, 50 years later, with the Tibetan situation unresolved, there are still many needy children. As the Tibetan refugees were settled throughout India and Nepal, TRAS began to help poor Indian and Nepali children as well.
TRAS. The Trans-Himalayan Aid Society (founded in 1962 as the Tibetan Refugee Aid Society) is a registered Canadian charity, based in Vancouver. We support the health and education of children and youth in Nepal, northern India, and Tibet.
Cost. The cost to sponsor a child is $440 each year. We will send you a charitable tax receipt. TRAS sends $400 to the settlement (in two disbursements, in February and June); we use the remaining 10% to cover administration costs.
Correspondence. The settlements send letters from the children at least once each year, which we forward to their sponsors.  Often they will include photos, drawings, or report cards. If you'd like to send a letter to your sponsored child, we can send it with the next
semi-annual disbursement.
Monitoring. Besides the letters and photos from the children, we also periodically check with the settlements to confirm that all of the children being sponsored by TRAS members are still attending school and in need of sponsorship. A number of directors on our board also travel to the region regularly (on personal trips), and visit settlements while they're in the area.
Becoming a sponsor. If you'd like to sponsor a child through TRAS, please e-mail sponsorship@tras.ca, or call our office at (604) 224-5133. We will help you to select a child, and we will send you the one-page case history for your child that we've received from the settlement.
You can pay the sponsorship fee online: Make a sponsorship donation through CanadaHelps. You can pay either annually or monthly ($37/month), whichever is more convenient for you. Please indicate the name of your sponsored child.
Or, if you prefer, you can send a cheque to our office, or give your credit card information by telephone. You can pay either annually or quarterly (in January, April, July, October), whichever is more convenient for you. Again, please indicate the name of your sponsored child.
After you begin sponsoring a child, we'll ask if you can renew your commitment towards the end of each year (in November). If your circumstances have changed and you can't continue, please let us know. We'll do our best to find another sponsor to continue the sponsorship.
The sponsorship ends when the child either graduates from school (school ends at Grade 12) or has to leave the school for another reason (e.g. illness, family moves away, goes to work).
Thank you for making a contribution to the future of the Himalayas!