Sunday April 1, 11:00 am – 6:30 pm at Langara College, 100 W. 49th Ave, Vancouver 
TRAS, the Nepal Cultural Society of BC (NCSBC) and Langara College Continuing Studies are co-sponsoring Vancouver's Second Nepali Film Festival on Sunday April 1. The one-day festival, featuring award-winning films about contemporary Nepal, is a fundraiser for TRAS projects supporting health and education of children and youth in Nepal. Together, the films provide a complex, in-depth look at socio-economic conditions in Nepal today. 
All films have English subtitles. 
Our co-sponsors
The Nepal Cultural Society of BC preserves and promotes Nepali identity and culture amongst residents in BC, builds cooperation, goodwill and mutual support among Nepali British Columbians and assists in human development activities in Nepal. 
Langara College Continuing Studies is dedicated to lifelong learning and public service through education. Collaborative programs with community organizations further enrich the learning environment of the College and the community's understanding of public issues that affect society. 
If you have any questions about the film festival, please e-mail us at nepalifilmfest@yahoo.ca. 
Film Festival Schedule
11 am –
6 pm 
Himalayan Market
handicrafts, displays, refreshments, open to the public 
First Screening 12 pm –
1:30 pm 
Theatre A130 (seats 200) 

We Corner People 
A Stove, a Blouse and a Gun 

Theatre A136a 

Daughters of Everest 
Trailblazing 

Theatre A122a 

On the Road with the Red God: Machhendranath 

1:30 pm –
2:15 pm 
Intermission and Himalayan Market 
Second Screening 2:30 pm –
4 pm 
Theatre A130 

On the Road with the Red God: Machhendranath 

Theatre A136a 

We Corner People 
A Stove, a Blouse and a Gun 

Theatre A122a 

Daughters of Everest 
Trailblazing 

4:15 pm 
Theatre A136b: Discussion with Dr. Ramjee Parajulee, Department of Political Science, UBC 
Third Screening 5 pm –
6:30 pm 
Theatre A130 

Daughters of Everest 
Trailblazing 

Theatre A136a 

We Corner People 
A Stove, a Blouse and a Gun 

Theatre A122a 

On the Road with the Red God: Machhendranath 
The Films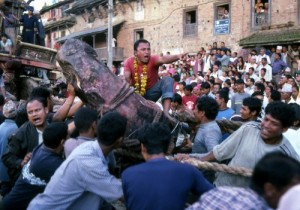 On the Road with the Red God: Machhendranath (2004; 72 mins) is a multiple award-winning film directed by Kesang Tseten. Every 12 years, impassioned devotees pull a 65-feet tall unwieldy chariot, its rider an enigmatic god, on a month-long journey through the Kathmandu Valley. The enterprise calls for extreme cooperation and rigorous observance of ritual in the building, sanctification and pulling of the chariot. But the jatra (festival) is an arena of gritty reality, where participants vie for everything from a share of ritual meat to status and proximity to the god. The chariot teeters, as does the community, between chaos and order, conflict or solidarity. Thus, every 12 years, the same question: will the journey succeed? 
Awards
Special Jury Award, Slovenia Mountain Film Festival, 2007
Grand Prize at the Kendal Mountain Film Festival, UK, 2006
Special Mention, Bilan du Film Etnographique, Paris, 2006
Adjudged documentary of the decade by Nepal Motion Pictures 
We Corner People (2006; 50 mins), another award-winning film by Kesang Tseten, tells the story of a remote Tamang village that is getting a Swiss-funded trail bridge to make life easier and placate fear. The film depicts conditions of grinding poverty that will astonish and move us to the core, and reveals some of the tensions and complexities that can accompany western development initiatives.
 Awards
Best Nepali Documentary, Kathmandu International Mountain Film Festival, 2006

Subina Shrestha's compelling documentary, A Stove, a Blouse and a Gun (2006; 22 mins), reviews the people's war from women's perspectives and explores reasons why many women joined the Maoist party and took up arms to fight. Now that the conflict is in a state of being managed and peace agreements are being negotiated, the Maoist's female cadre is actively anticipating the outcome of its sacrifices. It's yet to be seen whether women's voices will be heard or not. 
Sapana Sakya's and Ramyata Limbu's award-winning and captivating Daughters of Everest (2004; 56 mins) documents the first-ever expedition of Sherpa women to climb Everest. Although the Sherpa people are legendary for their unmatched skill in mountaineering, Sherpa women are discouraged from climbing Everest, relegated instead into support roles in the climbing industry of Nepal. Told from a woman's perspective rarely seen on Everest or off, this film is both a dramatic, inspiring Everest story and an absorbing portrait of the Sherpa community. 
Awards
Best Documentary Award, Mt. Shasta Film Festival, California
Best Climbing Film, The Banff Mountain Film Festival, Canada
Jury Award, Mountain Film, Telluride, Colorado
Best Mountain Culture Documentary Award, Taos Mountain Film Festival, New Mexico
Grand Festival Award, Berkeley Video & Film Festival, California
Nominated for Best Documentary, Asian Film Festival in Dallas, Texas, 2004 
Trailblazing: The Women of Nepal's Trekking Industry (2005; 24 mins), directed by Vancouver's Lisa Hoffe, documents the pioneering spirit and determination of the fledgling few women trekking guides working in a male-dominated adventure tourism industry and a conservative mountain culture. The story centers around three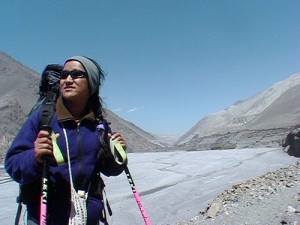 sisters, who operate the first and only female-owned trekking agency in Nepal. Now the high demand for female guides has prompted the sisters to train 20 to 25 young women twice a year to build capacity for women in the industry, also a first in Nepal. 
Awards
Official Selection, Kathmandu International Mountain Film Festival 2006
Official Selection, St. John's International Women's Film Festival 2005
Official Selection, NY South Asian International Film Festival 2005
Discussion with Dr. Ramjee Parajulee
There will be a half-hour discussion with Dr. Ramjee Parajulee at 4:15, between the second and third screenings.Dr. Parajulee was born and raised in Nepal. He has a Master's degree in Political Science from Tribhuvan University, Nepal; a Master's degree in Foreign Service from Georgetown University, USA; and a Ph.D. in Political Science from George Washington University, USA. 
Dr. Parajulee is currently with the Department of Political Science at UBC. He specializes in international relations and democratization in developing countries. He is the author of The Democratic Transition in Nepal (2000, Rowman and Littlefield, USA). 
Filmmaker in attendance
TRAILBLAZING filmmaker, Vancouver's Lisa Hoffe, will be at the 5pm screening of her film. 
Himalayan Market
Come to our all-day Himalayan Market (11am-6pm) in the Langara Cafeteria, featuring Himalayan handicraft sales and information on the amazing work that a variety of NGOs, groups and individuals are doing to bring positive change in the lives of Himalayan people. The Market is open to the public, so you don't have to attend a film to come to it! The Nepal Cultural Society will be selling light Nepali snacks (no meals) and tea as refreshments. 
Who will be at the market? 
Daniel Henshaw, Photographer 
Langara Rotaract Club 
Gewa Project. (Gewa is currently accepting donations of prescription eyeglasses to give to elderly people in Tibet. Please bring eyeglasses to the Gewa table at the Himalayan Market.) 
Everest Originals, Unique Nepali Jewellery (world-class gemstone and sterling (92.5) silver jewellery from Nepal). Contact: Nancy Sherpa, nsherpa@telus.net 
Kalsang Dawa, Master Thanka Painter. Contact: info@kalsangdawa.com 
Himalaya Arts and Crafts, Nepali shawls and jewellery. Contact: Pemten Lama, pemtenl@yahoo.com 
Pema Dolma, Himalayan Handicrafts 
Tickets
$10 for one screening
$15 for two screenings
$20 for three screenings 
Students/seniors/low-income:
$7 for one screening
$11 for two screenings
$15 for three screenings 
Information: www.tras.ca/filmfest, 604-224-5133