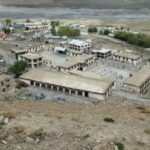 For more than 20 years, TRAS has supported the 500 students and staff at Munsel-ling School in the Spiti Valley in northern India.
The Indian government requires that schools holding high school examinations have a separate examination hall. Until 2023, Munsel-ling students have written their exams sitting on the bare ground or on roofs exposed to the bitter winter cold.
To satisfy the government requirement, Munsel-ling School recently added a second story to the existing Cultural Hall. Now, the base floor of the Examination Hall is the roof of the Cultural Hall (which was built in 2002).
The roof of the Cultural Hall was made of sabeda bali timber beams because they were inexpensive and easily accessible at the time. The beams have suffered damage from years of snowfall and rain and have become brittle and may collapse under weight. So not only is it unsafe, but very uncomfortable for students to be sitting on the mud floor. The hall will also be used for seminars and workshops.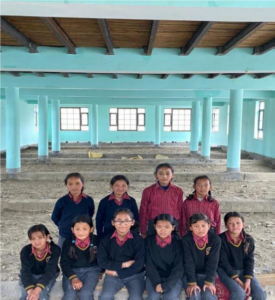 There were three choices presented to TRAS: concrete (too cold and too heavy), cheap wood planks (would rot quickly and be prey to insect infestation) and teak flooring (expensive but long lasting and rot and insect resistant).
TRAS decided to go with the longer-lasting choice and approved the budget of $19,250 CAD to cover the 80ft by 40ft hall with teak planks.
A wood floor will also provide more comfort for the students because it helps maintain constant room temperature and will hold heat on chilly days.
At $6/square foot, the cost doesn't sound impossible – can you help by paying for a few square feet?
Total funding required: $19,250 CAD
Will you help? Donate here