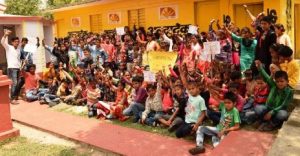 The Voice of Children project supports the work of two TRAS partners in the remote Almora and Nainital districts of Uttarakhand in  Northern India, AMAN and Vimarsh. Both organizations are committed to bringing access to health and education to 12 rural villages.
The isolation of these villages, located 2km to 27km from the road, makes it difficult for the children and villagers to attend school and get medical care.
Men often have to seek employment away from home leaving the women and children for long periods of time to manage the household on their own.
Faced with these challenges, the goal of Voice of Children is to improve the lives of the people by promoting education, keeping children in school, especially girls, and ensuring access to basic health care.
VOC provides a range of initiatives: direct education for children; resource centres to support and complement education; and capacity-building initiatives to make sure that villagers know their rights, especially children and women.
The VOC initiative solves these issues with education support centres, tuition classes and computer literacy programs.
Capacity Building Meetings
Both AMAN and Vimarsh organise regular meetings to listen to the needs of the communities and to educate them about
their various rights. The meetings unify local women to have their voices heard and to educate them about a variety of topics. The discussions focus on education about gender issues, local self-governance, domestic violence, relevant government programs, water-sharing, and many more.
Another set of meetings brings together both children's and women's groups to discuss mutual issues.
To learn more about the Voice of Children read their November 2022 report here
DONATIONS NEEDED FOR 2022 - $33,766