We are thrilled to announce TRAS's 50th Annual General Meeting and hope you can join us!
Date: Wednesday, June 6, 2012
Start time: 7:00pm
Doors open: 6:30pm
Location: Tsengdok Monastery, 1502 Angus Drive (at Granville St, 2 blocks south of 16th Ave), Vancouver
Seating is limited so RSVP by June 1 to TRAS Event Coordinator Marina Guy: marina.guy@tras.ca
Details: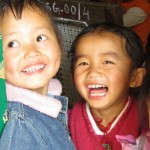 TRAS President Jennifer Hales recently returned from India and Nepal where she visited a number of TRAS partners and project sites.
After a brief business meeting, Jennifer will share stories and photos of these exceptional organizations and the way your donations make a difference.
We will also celebrate the contributions of young TRAS supporters from UBC and Sutherland Secondary School in North Vancouver.
Street parking available on Angus St.
Please bring slippers if you wish (as we need to remove our shoes in the Monastery).
Light refreshments will be served after the meeting.
Questions: email Marina at marina.guy@tras.ca