The Fall 2014 newsletter has been mailed out to TRAS members.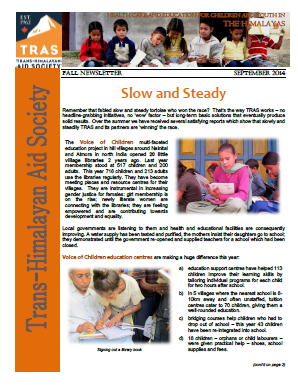 The Voice of Children project is run by two local NGOs, one based in Nainital and the other in Almora – towns in the foothills of the Himalaya in India. An excellent report was received in July, detailing the multi-faceted educational programs supported by TRAS.  Click here to read interviews with the children, telling their own stories.
Munsel-Ling School in Spiti, north India, has been supported by TRAS since its opening in 1996. TRAS has supported the training of the first teachers and the first housemothers. TRAS has supplied a library, computer room, healthcare centre, toilets, science labs and water systems.
20 years ago there were no schools for the children of what were ignominiously labelled 'scheduled tribes'* in the Spiti Valley. Today Munsel-Ling School houses nearly 400 students, has been accredited up to Grade 12, and has opened several satellite schools in remote villages.
One of the most important types of support has been given by the many TRAS members who have sponsored children at the school, paying for their board and keep and their schooling.
Since the first group of Grade 1 children reached university age, in 2008, several TRAS members have helped their sponsored child to complete post-secondary education – and now Munsel-ling School has welcomed back to the valley a doctor, a vet and a teacher.
Munsel-ling School has recently sent an article about the wonderful successes of these students, who are about to make a huge difference in their beloved valley.  
Sponsorship is so important!  To learn more about sponsoring a child through TRAS, please go to sponsorship@tras.ca