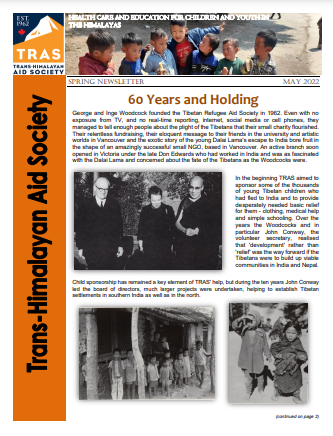 Our Spring 2022 Newsletter is now available:
60 years and Holding 
TRAS Accomplishments
New Projects
Scholarship Report
Dr. Bob Walker of Victoria, BC passed away peacefully on the 30th of April, 2022.
Bob was born on the 15th of May, 1936, in Nottingham, England. He attended Lancaster Royal Grammar school, then Newcastle Medical School. After graduation, his first job was working in Bedford, England. In 1965 he emigrated to Canada, along with his wife Dorothy (nee Cowan) and two young children – Liz and Al. They settled in Thunder Bay, Ontario, where Bob practiced medicine for ten years at the Port Arthur clinic. During that time, a second son, Dave, was born. In 1974, Bob and his family moved to Vernon, BC, where he practiced as a GP. While they were living in Vernon, Dorothy passed away in 1977, and Bob became a widower.
Bob then met his future wife Janice (nee Mann), whom he married in 1980. They welcomed a new addition to the family, a daughter – Szu. After retirement, Bob and Janice moved to Vancouver, BC and later relocated to Victoria, BC.
Bob was a kind, gentle, compassionate and courageous man in his own humble way. He was an avid bird-watcher, enjoyed playing guitar and going for walks in the countryside, and loved British antique sports cars and car racing. He and Janice had the privilege of traveling to many parts of the world, such as East Africa, the Galapagos islands, and India. Bob was a practicing Buddhist and was ordained by Vietnamese Zen Master Thich Nhat Hanh in 2012 with the Dharma name True Profound Achievement.
Bob and Janice sponsored the education of children in the Himalayas through the Trans-Himalayan Aid Society (TRAS) for many years. If you would like to make a donation to TRAS to honour and celebrate Bob's life, you can do so by:
E-transfer to email address: info@tras.ca and add reference "Bob Walker Memorial Fund"
Credit card online via CanadaHelps
Credit card by phoning the TRAS office at 604-224-5133 (the phone line is monitored regularly)
Cheque made out to TRAS. Please note "Bob Walker Memorial Fund" on the bottom of the cheque, and mail it to:

TRAS
1183 Melville St
Vancouver, BC, V6E 2X5
Thank you for honouring Bob's memory.