Project # 348 – September 2023
His Holiness the Dalai Lama's Central Tibetan Relief Committee sent an urgent appeal in September, 2023 to organizations such as TRAS for flood relief help in Tibetan Settlements in Himachal Pradesh.
Because of global climate changes, the Himalaya region has been adversely impacted by incessant rainfall, resulting in the destruction of houses and properties.
The cluster of Tibetan settlements in Kullu are located close to the banks of the flood prone river Beas rendering them particularly susceptible to various natura disasters, including floods, landslides, and cloud bursts. Such calamities have become a recurring problem due to the drastic change in climate conditions.
In the recent flooding event that occurred in July 2023, the Kullu Tibetan settlements situated along the riverbanks have experienced severe devastation. The existing flood protection walls at Kullu Yulokoe and 15-mile settlement were mostly swept away, leading to substantial damage and loss of houses. Unquestionably, residing in such locations poses a significant risk to human lives and property.
The cluster Tibetan settlement details are as follows:
Kullu Dobhi Settlement accommodates 91 households with a population of 334 members.
15-mile Settlement is composed of 15 households with a total population of 60 members.
Yulokoe Settlement accommodates 65 households with a population of 278 members.
Manali Dickeyling Settlement accommodates 45 households with a population of 145 members.
The primary objective of the project is to construct retaining walls to prevent flooding in the future. This will provide the residents with a sense of security and relief during seasonal heavy rainfalls, as the retaining wall will help mitigate the risk of flood damage, property damage and loss of life.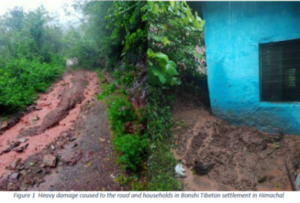 The long-term result will not only sustain the underneath soil for a longer period but also safeguard from structural damage as well contributing to a long-term environmental sustainability.
All donations towards this ongoing work would be welcome. TRAS has been able to commit and send $5,000 to help pay for repairs and the strengthening of retaining walls.
Will you help?
Ways to Donate: click here
News release from CTA News (tibet.net)News release from CTA News (tibet.net) – Flooding and Damage in Tibetan Residential Areas of Kullu District