(2018/09/30)
TRAS is a long-time supporter of the Munsel-ling School in the Spiti Valley, in northern India, since it opened in 1996. This has included desks for classrooms and greenhouses for growing food during the long winters, as well as sponsorships to support the education of individual children, and more recently supporting post-secondary students through the TRAS Scholarship Fund.
Munsel-ling wrote to ask for TRAS's support in building laundry facilities.
TRAS board member Dr. Videsh Kapoor visits Spiti regularly as part of her work with the UBC Global Health Initiative, and she was able to get a more detailed understanding of what the needs are. The key problem is water availability.
The population of the town of Spiti is only 200 people, while the school has up to 600 students. This leads to possible conflict over water usage.
Currently, the students have been using a gray-water pond to wash their clothes. This pond is also used by the villagers for irrigation. When the students use it to do laundry, the soap and grime often flow into the villagers' fields, causing conflicts with the school.
Moreover, when the students are unable to clean their clothes, they can develop worrisome health issues including scabies.
The Munsel-ling school has four sources of water, including two surface springs and two wells. One of the wells supplies the hostels and the kitchen, the other is shared with the villagers.
Of the two surface sources, the "north source" is a government source, shared with the entire village, including farmers, and governed by traditional norms (more for old people, less for new people).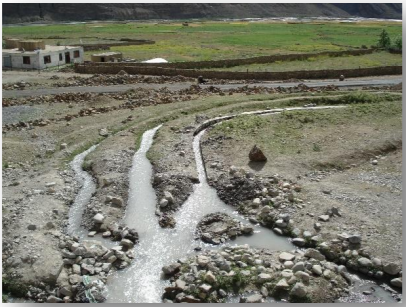 Finally, the "south source" is the target for the laundry project. It's also a government source, but the villagers don't use it. It connects to solar water heaters. Currently, there is no reservoir, so the water is wasted.
One question we had was where the water would come from in the winter. The two surface sources are not available in the winter, but the population of the school is also much smaller. (From mid-January to March, senior students continue studying in Dharamsala, and Munsel-ling has started sending teachers to villages to continue running mini-schools.)
TRAS agreed to fund the building of a large water storage tank to collect clean water from a surface spring which is not used by the villagers, two outdoor laundry stations and a soak pit to strain the soap and grime out of the water before it reaches the farmers fields. Construction in the Spiti Valley is limited to the few summer months, so Munsel-ling School forged ahead, and by the end of August the children were washing their clothes in the almost-completed facilities. They are simple but effective, and large enough to cope with the school population of over 400 children.
Funds needed for 2019: $17,695 of which $12,034 has been raised.