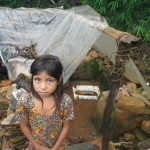 Why TRAS and why toilets?
The Trans-Himalayan Aid Society has a long history of assisting public sanitation in the Himalayan region. It also has a long association with UBC. TRAS founders George and Inge Woodcock called upon their UBC colleagues & friends over 50 years ago as they established the NGO.
Now, TRAS is collaborating with UBC Anthropology staff Sara Shneiderman http://anth.ubc.ca/faculty/sara-shneiderman/ and Mark Turin http://anth.ubc.ca/faculty/mark-turin/, to assist in a rebuilding project in Dolakha district, Nepal.
Shneiderman and Turin are advisors to indigenous citizens in this region, and alerted TRAS to the dire need for help to reestablish public sanitation after the May 12 earthquake flattened most existing latrines. TRAS is partnering with Shree Fashelung Social Service, in Suspa-Kshamawoti VDC, to assist in this vital rebuilding project.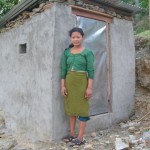 Through this project, local residents will reconstruct toilets for each household of Suspa-Kshamawoti VDC (S-K), Ward No 5, to ensure a healthy and sanitary environment. The population of Ward 5 is 90% Thangmi/Thami (a highly marginalized indigenous group), with whom Shneiderman & Turin work closely.
Shortly before the earthquakes hit, Dolakha had been declared an "open defecation free zone" by the Government of Nepal, as major progress had been achieved in building toilets across the district in recent years. The earthquake undid much of this work, as it destroyed toilets that people had built with the financial aid of other NGOs who no longer working in this area. Where they can, local residents are using what is left of their latrines, which are often unsafe and unsanitary, with broken footplates, open exposure to the elements and dangerous cracks. Without safe or sanitary toilets, some people have gone back to open defecation.
Your dollars to TWIN YOUR TOILET will assist local people to maintain and improve the health of their children and families. This rebuilding project helps people in Nepal to regain some of the ground they had achieved before the earthquakes, and to pick up their lives for a more promising future.
The cost for construction materials, footplate, water pipes and tap is $210 per latrine. TRAS has committed to funding 80 latrines from funds already raised for rebuilding and will fund additional toilets from donations received.
Thank you for your generous gift.
January 22, 2016 – Funds received to date will build 188 toilets – only 12 to go!