Voice of Children (VOC) is run by AMAN and Vimarsh, two NGOs in Almora and Nainital Districts of northern India, and supported by TRAS for many years.
Both NGOs, through the Voice of Children project, are involved in providing educational and health programs for the children of the remote villages in this mountainous region. With the arrival of the COVID-19 pandemic, and the subsequent lockdowns, the NGOs turned their attention to relief support for the poor and stranded residents in the VOC field area.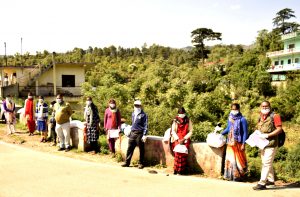 The pandemic significantly impacted the life of the locals, particularly those dependent on daily labour. Government support of a maximum of 5kg of rice per month to families identified as living below the poverty line was not enough. Also, the financial support of $9 per family per month barely helped.
The villagers were facing a shortage of food, cash, and hygiene products. The small energetic VOC team was given permission to travel in spite of the lockdown and reinvented itself to help provide the most destitute villagers with emergency food and hygiene supplies, which our donors swiftly paid for in early May ($5,000). Then, as the villages were overwhelmed by the returning migrant workers later that month, the VOC team supplied makeshift quarantine centres with vital supplies of food and hygiene products, again paid for by TRAS ($5,000).
As soon as they were able, the VOC teams restarted informal educational programs under strict safety guidelines. Classes were held for the high students to keep up their English, math and science studies, while the younger children were encouraged to learn to read and write. All classes were held outdoors, with the children distanced and masked. The benefits of being there for the children, of making life more normal, of calming their fears were huge.
The VOC team could see firsthand which children were hungry, which families were struggling, who needed help buying batteries so that students could access online learning. They saw young mothers desperate for advice and supplies for their newborns. They have asked for one more emergency fund to be used where needed most. A third payment of $5,000 was sent in September for this purpose.
Can you please help?
Donations still needed as at December 18, 2020: $7,000
Click here to see a photo slideshow from the Covid-19 Emergency Response Project from May to September, 2020
Click here to read the VOC Emergency Response to Pandemic Covid-19 report
Click here to read the VOC Emergency Response to Pandemic Covid-19 report – 2nd phase