Click here to read the Project Completion Report from November 2016.
Can a child learn well when she has lice, anemia and diarrhea? 
She needs a better diet, including lots of fresh green veggies – but how to get them in the arid desert-like conditions of the remote Spiti Valley? And if her school does manage to plant them, how will they nurture and protect the vegetables?
Munsel-ling School has the answer – now TRAS wants to implement it.  With YOUR help, these precious vegetables can be cared for and protected to provide much needed nutrients for the children.
In this harsh, cold environment, greenhouses are essential for growing the green vegetables needed to help combat anemia.  The 50ft long greenhouses are working well – EXCEPT that they are unprotected.  Cows and dogs are causing havoc, the heavy polythene roofs are being torn and a good watering system is non-existent.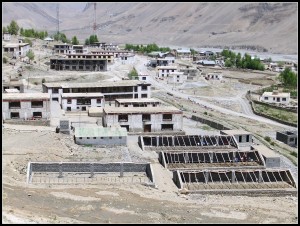 Now that the first greenhouses have proven their worth, the school wants to create a secure compound.  Needs are:
A strong 4 foot high wall to keep out marauding animals (and the kids who love to slide down the roofs!)
Properly engineered canals to provide water
A large cement water storage tank
A smaller tank in each greenhouse to be filled with snow – it will melt in the comparative warmth of the greenhouse for water during the freezing winter.
A shed for equipment and compost storage
A small cottage for the permanent gardener.
Good soil for the summer plants to be grown between the greenhouses.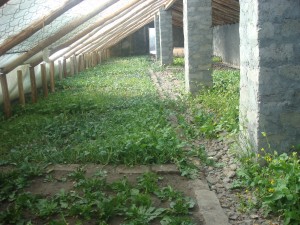 Once all this has been accomplished more greenhouses can be built to feed the 500 children at the school.  But the compound must be secured first. The snow will start soon– there may just be time to start clearing the land and collecting stones to ready the site for the wall construction next spring.